Soooo I've decided to convert this topic into a hoard for my non-TOSOT JN drawings
I will no longer be posting JIMMAY fanart in the Creative Works forum.
IMAGE DUMP TIME
"You're just in time for tea."
The Adventures of Jimmy Neutron meets Alice in Wonderland? Cindy Vortex as Alice and Jimmy as the Mad Hatter, anime-fied!
Because the JxC verison was so popular, I decided to re-make it with SxL!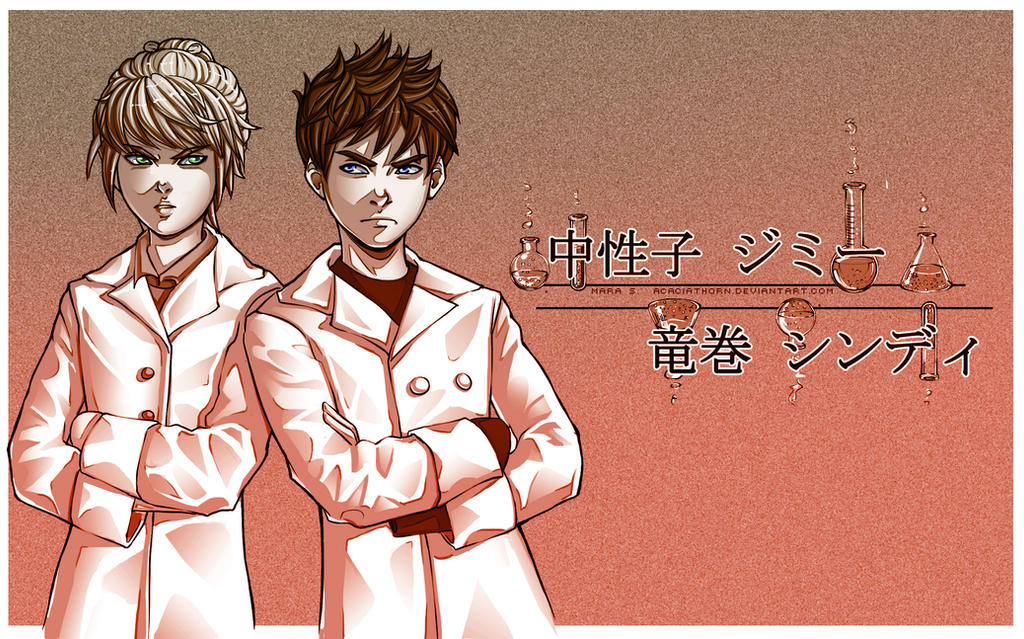 9x-7i > 3(3x-7u)
Solve for i.


JN is one of those shows that I've always thought would be really cool as a manga. Maybe a sort of school days/shounen combo with plots about everyday life intermingling with crazy space adventures and SCIENCE gone wild


This is my tribute to that idea (also a little something for Valentine's Day). Enjoy! P.S. The text 中性子 ジミー translates to Chuuseishi Jimi (Jimmy Neutron), and 竜巻 シンディ comes out to Tatsumaki Shindei (Cindy Vortex).
Perhaps this is stating the obvious, but I have a serious thing for badass, emotionally constipated blonde girls.


Here we have a few of my favorites:
~ Astrid Hofferson from How to Train Your Dragon (purple)
~ Cindy Vortex from The Adventures of Jimmy Neutron (green)
~ Helga G. Pataki from Hey Arnold! (pink)
~ Terra from Teen Titans (yellow)

I was eating sweet tarts while drawing this, and I think the color scheme might have found its way into the picture
Art trade with Keirin-chan.
THIS IS CONCLUSIVE PROOF THAT I AM MENTALLY DERANGED.

The other day I happened to catch "The World is Not Enough" on Spike TV.
And I was all like: BOND. JAMES BOND.
Which naturally became NEUTRON. JAMES NEUTRON.

So I thought to myself: Hmm...I wonder what it would be like if Jimmy were a secret agent? He's got the gadgets, the suits, the power-crazed foes...And then I thought: GREAT SCOTT....BOND GIRLS. And the next thing ya know, THIS HAPPENS.
Oekaki scribbles :3 Caramelldansen!
Sugar and spice and shitty coloring
hurr hurr oh Sheen
Collab with Keirin-chan 2011
FROM JIMMYxCINDY WEEK 2011:
Then the hologram exploded in her face, and their infamous rivalry began...


For the theme "First Meeting". Because why give a girl a real flower when you canspend hours in the lab crafting a glowing thermonuclear timebomb that's sure to go horribly, horribly awry?
Theme: Fairy Tale. My take: Rapunzel crossover!
Theme: Castaway
Did their ship break down, stranding them light years from home on an alien planet? Or is this simply their idea of a fun mini-vacation?
For the theme "Dress-Up", I decided to draw Jimmy and Cindy dressed up as figures from Greek mythology!


I don't know about you, but when I watched Clash of the Titans as a kid, I couldn't help feeling bad for Medusa...she's such a tragic figure; cursed, feared, alone, and constantly hunted by nasty men who want to kill her and cut off her head.

In my version of the myth, Perseus falls in love with Medusa when he glimpses her reflection off his shield. She returns his affections, but because even a passing glance would kill him, she commands him to leave rather than risk turning him to stone. Determined to be with her at any cost, he does the only thing he can think of - he cuts out his own eyes so that he can remain by her side without fear of ever looking upon her. (Or, if you want the kid-friendly version, he puts on a blindfold and never takes it off, and the blood is simply a metaphor for his sacrifice).
SS gift for Pedro, 2011
B F effing F's!
~*Mara*~ = ^.^ =